October 31, 2017
Asthma Management During Pregnancy: How to Benefit Both Mothers and Infants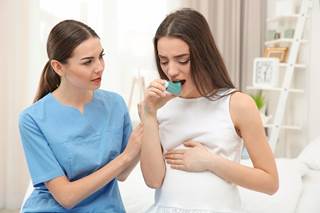 In addition to continuing their asthma medications, pregnant women can avoid animal dander, indoor mold, and house dust mites.
While there is a consensus in the literature on asthma in pregnancy that better control of asthma leads to better overall outcomes and is preferable to no control, mothers to be tend to discontinue the very medications that can help them avoid exacerbations.1 A survey of mothers with asthma reported that 42% had discontinued their oral corticosteroids, 12% stopped using ICS, and 5% discontinued using short-acting beta agonists.1 Yet discontinuing asthma medication during pregnancy can double the chances of wheezing (odds ratio, 2.17), especially in women who live in polluted areas.1
"Many pulmonologists are now using targeted biologic therapy for some types of severe asthma, such as anti-immunoglobulin E (omalizumab) and anti-interleukin-5 (mepolizumab and reslizumab)," says Dr Bonham. "There is not enough evidence to recommend these drugs in pregnancy and lactation. So far, based on pregnancy registry data, no adverse outcomes have been reported in women who were already on biologic therapy when they became pregnant."
Although no one agent demonstrated superiority in pregnancy, evidence shows that ICS medications improve lung function (FEV1) and reduce asthma exacerbations.5 So far, no studies or registries have reported an increase in birth abnormalities with ICS use.3 Budesonide has the most data available regarding safety of the ICS agents.5
In a trial that included 60 women, inhaled magnesium sulfate combined with usual treatment was effective in reducing the frequency of exacerbations as well as improving lung function.6 Of the comparison trials in an 8-trial systematic review, inhaled beclomethasone vs oral theophylline for maintenance therapy showed no difference in efficacy (risk ratio, 0.88; 95% CI, 0.59-1.33; N=385).6
Nonpharmacologic treatment for asthma includes avoiding animal dander, house dust mites, cockroaches, pollens, and indoor mold.3,5 To keep allergens at bay, the National Asthma Education and Prevention Program guidelines recommend using allergen-impermeable covers for bedding, washing bedding weekly in water >130 degrees Fahrenheit, and reducing indoor humidity to <50%.5
Treating comorbidities that occur more frequently during pregnancy can also prevent exacerbations if women use the appropriate medications.1 Based on pregnancy safety data, clinicians should consider intranasal budesonide for treating nonallergic rhinitis rather than pseudoephedrine or phenylephrine, which can cause vasoconstriction and teratogenic effects.1 Gastroesophageal reflex disease can exacerbate asthma and should be treated with antacids or proton pump inhibitors.1 Likewise, anxiety and depression can increase asthma flares during pregnancy, although their treatment has not been studied in pregnant women.1
"Asthmatic women should be provided with an asthma management education and an asthma action plan to help them recognize when they need to increase their medication dose, when to go to the doctor, and when to go to the hospital," advised Dr Clifton. "This can be done cost effectively with a respiratory nurse based in the antenatal clinic."
Summary & Clinical Applicability
Uncontrolled asthma during pregnancy can cause severe complications for the mother and her baby, including low birth weight and fetal death. Multidisciplinary care teams should monitor women with asthma to avoid exacerbations during pregnancy. A review of asthma medications is critical to ensure that mothers avoid teratogenic drugs while maintaining asthma control.
Limitations & Disclosures
None.
References
Bonham CA, Patterson KC, Strek ME. Asthma outcomes and management during pregnancy [published online September 1, 2017]. Chest.pii: S0012-3692(17)31485-X. doi:10.1016/j.chest.2017.08.029
Meakin AS, Saif Z, Jones AR, Aviles PFV, Clifton VL. Review: placental adaptations to the presence of maternal asthma during pregnancy. Placenta. 2017;54:17-23.
Global Initiative for Asthma. Global strategy for asthma management and prevention, 2017. www.ginasthma.org Accessed October 3, 2017.
Liu X, Agerbo E, Schlünssen V, Wright RJ, Li J, Munk-Olsen T. Maternal asthma severity and control during pregnancy and risk of offspring asthma [published online June 28, 2017]. J Allergy Clin Immunol. 2017. pii: S0091-6749(17)30854-0. doi:10.1016/j.jaci.2017.05.016
National Heart, Lung, and Blood Institute; National Asthma Education and Prevention Program Asthma and Pregnancy Working Group. NAEPP expert panel report. Managing asthma during pregnancy: recommendations for pharmacologic treatment-2004 update. J Allergy Clin Immunol. 2005;115(1):34-46.
Bain E, Pierides KL, Clifton VL, et al. Interventions for managing asthma in pregnancy. Cochrane Database Syst Rev. 2014;10:CD010660. doi:10.1002/14651858.CD010660.pub2