January 16, 2018
Managing Asthma in Children Via School-Based Telemedicine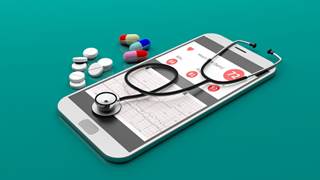 Patients in the telemedicine group were less likely to be hospitalized for asthma compared with the usual care group.
HealthDay News — A School-Based Telemedicine Enhanced Asthma Management (SB-TEAM) program can improve symptoms for children with persistent asthma, according to a study published online in JAMA Pediatrics.
Jill S. Halterman, MD, MPH, from the University of Rochester in New York, and colleagues conducted a randomized trial involving children with persistent asthma aged 3 to 10 years. A total of 400 children were randomly allocated to the SB-TEAM program or enhanced usual care for one school year.
Of the children in the SB-TEAM group, 98% had one or more telemedicine visits and 82.5% received supervised therapy through school. The researchers found that, compared with children in the enhanced usual care group, those in the SB-TEAM group had more symptom-free days per 2 weeks postintervention (11.6 vs 10.97; difference, 0.69; 95% CI, 0.15-1.22; P =.01); the largest difference was seen at final follow-up (difference, 0.85; 95% CI, 0.10-1.59). The likelihood of having an emergency department visit or hospitalization for asthma was lower for children in the SB-TEAM group (7% vs 15%; odds ratio, 0.52; 95% CI, 0.32-0.84).
"The SB-TEAM intervention significantly improved symptoms and reduced health care utilization among urban children with persistent asthma," the authors wrote. "This program could serve as a model for sustainable asthma care among school-aged children."
Reference
Halterman JS, Fagnano M, Tajon RS, et al. Effect of the School-Based Telemedicine Enhanced Asthma Management (SB-TEAM) program on asthma morbidity: a randomized clinical trial [published online January 8, 2018]. JAMA Pediatr. doi:10.1001/jamapediatrics.2017.4938