July 12, 2017
How Does CVD Comorbidity Influence Bronchodilator Tx in COPD?
This article originally appeared
here.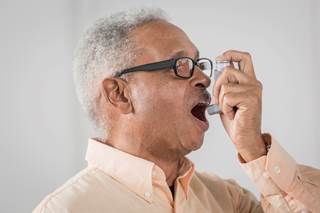 A cross-sectional study examined data from over 11 million ambulatory COPD visits.
Patients with chronic obstructive pulmonary disease (COPD) with cardiovascular disease (CVD) may be less likely to receive a prescription for a bronchodilator, according to a new study published in the Annals of Pharmacotherapy.
Given the potential CV side effects associated with bronchodilators, clinicians may be hesitant to prescribe the therapy to patients with COPD with CVD. In order to determine whether CVD was associated with reduced prescribing, researchers conducted a cross-sectional study using the 2010 National Ambulatory Medical Care Survey. Patients with COPD over the age of 40 were included in the analysis, which examined 11,627,061 ambulatory COPD visits.
A significantly lower bronchodilator treatment rate was associated with patients with COPD with comorbid CVD compared to those without CVD (32.3% vs 57.6%, respectively); deprescribing occurred more often in women, nonusers of beta-blockers, and patients with asthma. However, in males taking beta-blockers, CVD did not influence bronchodilator prescribing.
The authors conclude that "this study highlights a specific patient subgroup for whom the guidelines are less likely to be observed."
Reference
Adesanoye DT, Willey CJ, Does cardiovascular comorbidity influence the prescribing of bronchodilators in chronic obstructive pulmonary disease? [published online June 12, 2017]. Ann Pharmacother. doi:10.1177/1060028017712531