November 30, 2018
Traveling by Airplane With COPD: Expert Advice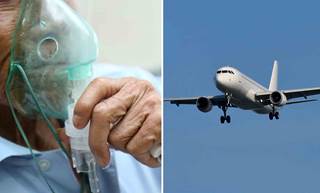 An estimated 12% of in-flight emergencies are attributed to respiratory illnesses.
Given the growing population of individuals reaching advanced age, it is anticipated that more people with medical conditions will travel by air.1 This projection underscores the need for healthcare providers and patients to be knowledgeable about adequate preparation for air travel to minimize the risk for adverse events. An estimated 12% of in-flight emergencies are attributed to respiratory illnesses,2 and chronic obstructive pulmonary disease (COPD) has been cited as the most common reason for pre-flight medical screening.1
Air Travel Risks in COPD
Air travel places patients with COPD at risk for a range of negative outcomes, including those described in a paper published in European Respiratory Review:1
Higher risk for significant hypoxemia, with the potential for arterial oxygen saturation (PaO2) to fall below critical limits
Hypoxemia-induced hyperventilation leading to hyperinflation and thus "increased intrinsic positive end-expiratory pressure, which is mainly responsible for respiratory muscle fatigue in severe COPD especially during long-haul flights"
Pronounced increases in pulmonary artery pressure, which could result in increased right ventricle afterload and dysfunction
Increased sympathetic activation due to acute hypoxemia, which may lead to cardiac arrhythmias and ischemia in vulnerable patients
Significant desaturation resulting from sleep during flights
Problems related to the expansion of gases during the aircraft's ascent, especially in patients with bullous emphysema or a history of pneumothorax
Hypoxemia-related symptoms typically affect individuals who have limited cardiopulmonary reserve.1 A retrospective study of 391 patients with COPD showed hypoxemia-related symptoms during air travel in one-quarter of participants compared with 9% in non-COPD controls (P <.001), and these symptoms were closely related to exercise desaturation and higher dyspnea scores during the 6-minute walk test (6MWT).3
Patients with COPD may also experience air hunger, hyperventilation, chest pain, palpitations, lightheadedness, and tingling in the extremities. Any physical activity such as walking to the lavatory may further increase symptoms. In addition, irritation of the lower airways as a result of low in-flight air humidity and increased ventilation from hypoxemia may cause respiratory symptoms.3
Preparing for Flight
Physical examination prior to a planned flight is recommended for all patients with COPD, and further evaluation is required for patients with "dyspnea on exertion, forced expiratory volume in 1 second (FEV1) <1.5 L or FEV1 <30% predicted, a pre-existing requirement of oxygen/ventilatory support, bullous lung disease, comorbid conditions that may worsen hypoxemia like cardiac disease and significant symptoms during previous air travel…."1 However, there is no consensus regarding the best types of assessments to use in these cases.
According to one study, the most commonly used tests in pre-flight assessments in patients with respiratory disease were oxygen saturation (96%), pulmonary function test (95%), hypoxic challenge test (also known as the hypoxic altitude simulation test [HAST]; 45%), and walk test (10%).4 "Depending on [arterial oxygen saturation measured by pulse oximetry] value and other risk factors the patients may have, additional tests are helpful for risk stratification and [the] need for supplemental oxygen on the aircraft," the 2018 review investigators wrote.1 A chest radiograph is also suggested for patients with bullous disease or a history of pneumothorax.
Healthcare providers should educate all patients with COPD about their flight-related risks and the need to seek medical advice before flying. Medications should be reviewed and refilled as needed to ensure adequate coverage during travel, and patients should keep these within reach during the flight. In addition, patients should take direct flights when possible, stay hydrated, sit close to the lavatory, and avoid sedatives and alcohol while in flight. It is advised that travel be delayed for 6 weeks in patients who have had a recent exacerbation.1
To learn more about the risks of air travel in COPD and how to adequately assess and prepare patients for flight, Pulmonology Advisor interviewed Joseph Khabbaza, MD, pulmonologist at Cleveland Clinic in Ohio, and Michael Sims, MD, MSCE, clinical director of the COPD program and assistant professor of clinical medicine at the Perelman School of Medicine at the University of Pennsylvania in Philadelphia.
Pulmonology Advisor: What are some of the issues associated with air travel for patients with COPD and how can these be minimized or avoided?
Dr Khabbaza: Air travel subjects patients with COPD to lower oxygen pressures in the cabin, which is similar to breathing about 15% oxygen at sea level.1 Patients with COPD have a lower respiratory reserve and are at a higher risk of developing hypoxemia during air travel. Additionally, patients with chronic hypoxemia requiring continuous supplemental oxygen may develop a greater oxygen requirement. Patients with emphysema in addition to COPD are also at a slightly higher risk of developing a pneumothorax during air travel due to pressure changes, although this does not commonly occur. As in patients without COPD, longer air travel can increase the risk for deep venous thrombosis and pulmonary embolism.