July 27, 2018
The Road to Precision Medicine in COPD Is Paved With Phenotypes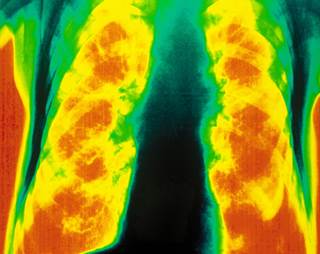 A better understanding of the different COPD phenotypes could lead to a more precision medicine approach to treatment. Photo Credit: Scott Camazine/Science Source
Although the heterogeneity of chronic obstructive pulmonary disease (COPD) is well-established, diagnostic and treatment strategies remain largely uniform across all patients. However, various study findings have suggested that there are subgroups of COPD characterized by distinct clinical features and treatment responses. Elucidating these phenotypes could lead to a precision medicine approach to COPD, as noted in a review published in the Journal of Allergy and Clinical Immunology.1
"I think the field should move away from COPD as a unique diagnosis and focus on differences that are important to understanding the natural history of the disease, and more importantly, pathophysiological traits that can be targeted with specific therapy," review coauthor Leopoldo N. Segal, MD, MS, assistant professor of medicine in the Division of Pulmonary and Critical Care Medicine at New York University School of Medicine in New York City, told Pulmonology Advisor. "This is a field that is clearly evolving rapidly in asthma, and it is likely that same will apply to COPD."
The most commonly observed COPD phenotypes — the defining characteristics, best management strategies, and potential future treatments — are described here.
Small Airway-Predominant Disease
Using microcomputed tomography, researchers have found reductions in the total bronchiolar area and number of small conducting airways in the early stages of COPD,2 and small-airway disease becomes more widespread with disease progression over time.
Small-airway remodeling in COPD is "characterized by goblet cell hyperplasia, mucous gland enlargement, peribronchiolar wall infiltration with inflammatory cells, and bronchiolar smooth muscle hypertrophy," as explained in the review.1

Recognition of this phenotype could encourage the use of therapies that can target the small airways, such as beclomethasone dipropionate/formoterol fumarate.
α1-Antitrypsin Deficiency
This condition more frequently presents in younger patients.
The homozygous and heterozygous forms of α1-antitrypsin deficiency affect an estimated 1% to 4.5% and 17.8% of patients with COPD, respectively.3 The latter type involves less severe deficiency.
This condition leads to an imbalance between proteinases and antiproteinases that is less often observed in other COPD subtypes, as well as subsequent "destruction of elastin fibers, which affects the elastic recoil of the lung and results in parenchymal destruction," the review authors wrote.1

Previous findings have shown beneficial effects of α1 proteinase inhibitor augmentation treatment in patients with severe deficiency, underscoring the value of recognizing this distinct phenotype.4
Emphysema
This phenotype appears to involve multiple biological pathways: "Both macrophage and neutrophil numbers are increased with release of matrix metalloproteinases, elastases, and collagenases that degrade the parenchymal matrix," Segal et al noted. "In addition, parenchymal destruction has been associated with increased apoptosis, probably through downregulation of the vascular endothelial growth factor pathway."1