January 26, 2018
COPD Continues to Present Screening Challenges, Research Barriers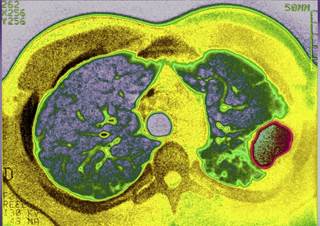 Many patients with COPD do not receive a formal diagnosis until their disease is in an advanced stage.
Conclusions and Next Steps
The authors noted that, "there are no data on how lung function testing could be used to aid in treatment decisions or improve outcomes for patients with COPD diagnoses prior to symptom onset." However, unnecessary spirometry assessments, as well as false-positive and false-negative results, could cause undue burden for patients and health care systems. For example, the prevention of one exacerbation would require screening hundreds of patients, according to a systematic review published in 2008.7
A simpler approach may be on the horizon. Dr Sciurba points to a 2017 study that used peak expiratory flow and a 5-item questionnaire to identify COPD.8 This technique exhibited a sensitivity and specificity of 89.7% and 93.1%, respectively, for differentiating COPD cases from no-COPD controls. Because the lead author of the study is also a member of GOLD, it is possible that this approach could appear in the next revision of the GOLD guidelines.
"The goal of COPD screening is to identify patients with COPD at a stage when identification can provide opportunities for treatment to limit symptoms and exacerbation frequency and improve quality of life," the JAMA authors stated. "To date, evidence does not exist that supports this benefit."
For further details, Pulmonology Advisor spoke with coauthor Valerie G. Press, MD, MPH, FACP, FAAP, FHM, assistant professor of medicine and pediatrics at the University of Chicago in Illinois.
Pulmonology Advisor: Why was there a need for this guideline update?
Dr Press: It is reported that an estimated 24 million Americans have obstructed lung flow, but less than half of this population has actually received a formal diagnosis. This means that many patients have early stage disease but may not be getting a sufficient evaluation and/or receiving helpful treatments and education. Therefore, many patients receive their diagnosis when the COPD is in a more advanced state. Screening for COPD could be a way to identify patients earlier; however, data on effective methods of implementing screening systematically, such as using spirometry, to screen for COPD across a general population are lacking, and therefore it is not suggested at this time.
Pulmonology Advisor: What are the main takeaways for our clinician audience?
Dr Press: The main takeaways are that we still do not have a way to screen a general patient population for COPD but that we can and should screen any patient with identified risk factors and/or symptoms with spirometry. These guidelines are important to ensure that such patients obtain the necessary evaluation with spirometry to provide a diagnosis as early in the disease process as possible. Further, any patient with COPD should be screened one time for α-1 antitrypsin deficiency.
Pulmonology Advisor: What should be the focus of future research in this area?
Dr Press: Methods for early detection of obstructed lung flow are needed, as are data on if and how early detection can slow or prevent the progression of COPD.
References