June 20, 2017
ERS Updates Methacholine Challenge Test Recommendations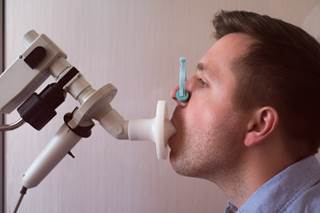 The European Respiratory Society provides updates to methacholine challenge test guidelines following preliminary discussions in 2008.
The European Respiratory Society (ERS), with the endorsement of the American Thoracic Society (ATS), has updated previous recommendations on general considerations for bronchial challenge testing (BCT), focused on the performance and function of the methacholine challenge test (MCT). The updated recommendations were published in the European Respiratory Journal.1
The international task force made these changes in an effort to accommodate newer delivery devices. "This end-point allows comparable results from different devices or protocols; thus any suitable nebulizer or dosimeter may be used, so long as the delivery characteristics are known," noted Allan L Coates, MD, of the division of respiratory medicine at the department of pediatrics, physiology, and experimental medicine, Research Institute, Hospital for Sick Children in Toronto, Canada, and colleagues. Previous recommendations based MCT results on methacholine concentration or provocative concentration (PC20) causing a 20% drop in forced expiratory volume in one second (FEV1). However, the new recommendations base the MCT result on the delivered dose of methacholine causing a 20% drop in FEV1, called the provocative dose or PD20. Recent research has found that the PD20 provides a more consistent correlation of results vs the PC20 when comparing responses according to different protocols.2
Bronchial challenge testing (BCT) assesses whether there is an increased sensitivity and exaggerated response to a non-allergenic stimulus causing airway hyperresponsiveness (AHR). The MCT is a direct challenge test, most often used to exclude or confirm a suspected diagnosis of asthma.1 However, due to its relatively high sensitivity its greatest utility may be in ruling out asthma.3 A positive MCT — unless at a very low dose — cannot confirm asthma.1
BCT is appropriate if asthma symptoms, spirometry, or response to therapy is atypical and can increase or decrease the probability of asthma.1 BCT can also be used as a screening test for applicants in occupations in which AHR would represent a high safety risk.
A summary of the 4 major MCT recommendations from the ESR follows.
Provocative Dose: The task force recommends basing MCT results on the effective delivered dose of methacholine causing a 20% fall in FEV1, or the provocative dose (PD20). Results are comparable across devices and protocols, allowing various nebulizers or dosimeters to be used.
Delivery Device: While any nebulizer or dosimeter is acceptable to use, all devices must include manufacturer-provided device output and particle size so that an appropriate inhalation protocol may be created.
Inhalation Protocol: For a breath-actuated or continuous nebulizer, the task force recommends tidal breathing with an inhalation period of 1 minute or longer. When using a dosimeter, breath count should be calculated. The ERS does not recommend using a deep-breath method, due to the potential bronchoprotective effect.
Dose Steps: The recommended starting dose is 1-3 μg; subsequent steps are doubled or quadrupled. Higher output devices require a starting dose with lower concentration.
Contraindications to BCT include limited airflow (FEV1 <60% or FEV1 <75% for a voluntary hyperpnoea challenge); a patient's inability to perform "acceptable spirometric manoeuvres;" cardiovascular concerns including uncontrolled hypertension, recent myocardial infarction, stroke, known aortic aneurysm, or arterial hypoxemia; and recent eye surgery.
References:
Coates AL, Wanger J, Cockcroft DW, et al. ERS technical standard on bronchial challenge testing: general considerations and performance of methacholine challenge tests. Eur Respir J. 2017;49(5):pii:1601526. doi:10.1183/13993003.01526-2016.
Dell SD, Bola SS, Foty RG,Marshall LC, Nelligan KA, Coates AL. Provocative dose of methacholine causing a 20% drop in FEV1 should be used to interpret methacholine challenge tests with modern nebulizers. Ann Am Thorac Soc. 2015;12(3):357-363. doi:10.1513/AnnalsATS.201409-433OC.
Crapo RO, Casaburi R, Coates AL, et al. Guidelines for methacholine and exercise challenge testing—1999. Am J Respir Crit Care Med. 2000;161(1):309-329.