April 24, 2017
PD-L1 Inhibitor Approved by FDA for Non-Small Cell Lung Cancer
This article originally appeared
here.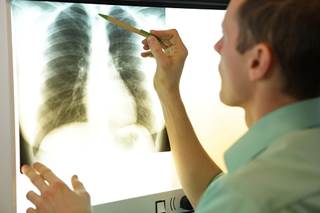 The median overall survival was 12.6 months for atezolizumab compared with 9.7 months for docetaxel.
Atezolizumab is the most recent in a line of immune checkpoint inhibitors approved for patients with non-small cell lung cancer (NSCLC), a subtype that accounts for between 85% and 90% of all lung cancer diagnoses.1
Atezolizumab was the first PD-L1 inhibitor approved by the US Food and Drug Administration (FDA) for patients with NSCLC whose disease progressed after platinum-based chemotherapy regardless of the patient's PD-L1 expression.2 Nivolumab is a PD-1 inhibitor approved for treating metastatic squamous and non-squamous NSCLC in patients whose disease progressed during or after platinum-based chemotherapy.3 Pembrolizumab is also approved as a second line treatment of NSCLC and is the only immunotherapy approved for first-line treatment of patients with NSCLC with PD-L1 expression of 50% or greater.4
The efficacy and duration of response observed with these new therapies are elements that make them extremely important, according to David Graham, BS, MD, an American Society of Clinical Oncology (ASCO) expert in lung cancer and a medical oncologist at the Levine Cancer Institute in Charlotte, North Carolina.
"If you look at these trials, the average duration of response and survival we are seeing is exceeding 2 years in most cases, and we regularly see subsets of patients who have responses that go much longer than that," explained Dr Graham.
Use in The Second-line
In October 2016, atezolizumab was approved by the FDA as a second-line treatment of patients with NSCLC based on the results of 2 clinical trials.
The phase 2 POPLAR trial (ClinicalTrials.gov Identifier: NCT01903993) randomly assigned patients with previously treated NSCLC that progressed on platinum chemotherapy to atezolizumab 1200 mg (142 patients) or docetaxel 75 mg/m2 (135 patients) once every 3 weeks.5 The primary endpoint was overall survival.
Patients assigned to receive atezolizumab had a significant improvement in overall survival compared with docetaxel (hazard ratio [HR], 0.73; 95% CI, 0.53-0.99). The median overall survival was 12.6 months for atezolizumab compared with 9.7 months for docetaxel. Updated results from the trial showed an overall response rate of 15.3%, with a median duration of response of 18.6 months for patients assigned atezolizumab.6
RELATED: Proton Therapy Trial Among Patients With Stage I NSCLC
The second trial, the phase 3 OAK trial (ClinicalTrials.gov Identifier: NCT02008227), compared atezolizumab (425 patients) and docetaxel (425 patients) among those with previously treated NSCLC unselected for PD-L1 status.7 Again, patients assigned atezolizumab had significant improvements in overall survival (HR, 0.73; 95% CI, 0.62-0.87; P = .0003).
Median overall survival was 13.8 months compared with 9.6 months for docetaxel.
Although patients with the highest levels of PD-L1 expression experienced the most benefit from the drug, improved overall survival was seen among patients with minimal to no PD-L1 expression.