August 29, 2018
Lung Cancer Imaging in Asymptomatic Patients: To Screen or Not to Screen?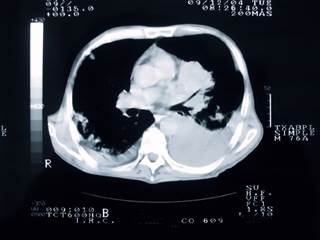 Highly sensitive tests for lung cancer may result in false-positive results and detect cancers that are slow growing yet appear to be malignant.
Despite a 20% reduction in lung cancer mortality as a result of screening with low-dose computed tomography (LDCT) scans as seen in the National Lung Screening Trial (NLST), emerging evidence has uncovered the hazards of lung cancer screening (LCS), stating that the risk-to-benefit ratio is uncertain.1,2 Those who claim that the screening does more harm than good aver that the high false-positive results spur unnecessary procedures and costs.2 Screening proponents, however, say that patients with risk factors beyond smoking history and age should also be given the opportunity to be screened for the cancer with the highest mortality.3
Harms in Screening
What may seem beneficial to patients can cause them harm (eg, radiation and unnecessary and costly procedures). As the NLST demonstrated, biopsies resulting from positive screenings led to biopsy complications in 3.1 of 1000 patients screened with LDCT imaging (approximately 1 in 320 patients).2 Within 60 days of a procedure for positive screens, 6 of 10,000 patients died.2 Moreover, 1 in 5 patients with benign nodules underwent surgical resection.2 For every lung cancer-related death that was prevented, 1.38 patients were overdiagnosed as false positive.2
Why Does Overdiagnosis Occur?
In cancer screening, highly sensitive tests with lower thresholds for detection may result in false positives and find cancers that are slow growing yet appear to be malignant on histopathologic inspection.4 Those screenings may result in more invasive procedures such as biopsies. Clinicians and patients may not be aware of the potential dangers of overdiagnosis.
"One approach is to develop a one-page handout that summarizes the potential benefits and harms for cancer screening test such as lung cancer or prostate cancer," advised Mark H. Ebell, MD, MS, from the department of epidemiology and biostatistics at the College of Public Health, University of Georgia in Athens in an email to Pulmonology Advisor. "Patients can review that while waiting, and then discuss any questions with the physicians. Mayo Clinic and the US Preventive Services Task Force (USPSTF) sites have some resources that can support that kind of shared decision making."
Other Factors to Consider for LCS
Screening factors beyond smoking history and age might include chronic obstructive pulmonary disease, history of cancer, education level, body mass index, sex, race, and environmental exposures.2 Proponents of early screening assert that because of the high rate of lung cancer deaths, the 5-year survival rate could be inverted to 84% rather than the currently dismal 18%.3 Timely screening would detect cancers that would normally appear at advanced stages.3
What the Guidelines Recommend
The American College of Chest Physicians (ACCP) recommends LDCT for high-risk individuals based on age and smoking history.5 The ACCP guidelines account for the NLST study's screening benefit, but cautions clinicians about the overdiagnosis findings from the Danish and Italian studies, 67.2% and none, respectively.5,6