October 13, 2017
Case Report: Small Cell Lung Cancer Case With Tumor Lysis Syndrome
This article originally appeared
here.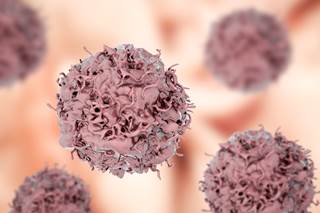 Tumor lysis snydrome releases metabolic byproducts into the systemic circulation and can cause harm.
CASE REPORT
Tumor lysis syndrome (TLS) occurs when a tumor is ruptured. When ruptured, the tumor releases a large number of electrolytes, including intracellular potassium, phosphate, and nucleic acid metabolites, all of which may enter systemic circulation and cause a number of life-threatening conditions including cardiac arrhythmia, seizure, and acute renal failure. Tumors are typically ruptured by cytotoxic chemotherapy and rarely rupture spontaneously.
A recent study published in Case Reports in Oncology describes a rare case of spontaneous tumor rupture resulting in TLS in a patient with recently diagnosed metastatic small cell lung cancer. According to the authors, "The findings of this case suggest that clinicians should maintain a high index of suspicion for patients with malignancies who demonstrate the classic symptom of laboratory abnormalities even in the absence of chemotherapy."
The case study follows a 55-year-old female smoker with a history of obstructive pulmonary disease and diabetes. The patient presented with worsening dyspnea and respiratory distress, including wheezing and decreased breath sounds in the left upper lung field. Her vital signs were consistent with tachypnea and tachycardia. Chest radiography revealed left upper lung airspace disease. The patient's condition was diagnosed as pneumonia with acute respiratory failure.
Abdominal ultrasonography revealed an enlarged liver with multiple masses. Once the patient's condition stabilized, chest and abdomen computed tomography examinations were performed. The patient had a 7-cm mass in the left upper lung lobe as well as widespread bilateral mediastinal and left hilar, axillary, and supraclavicular lymphadenopathy and multiple liver metastases. Histopathologic examination of a liver biopsy indicated high-grade small cell neuroendocrine cancer. Magnetic resonance imagining of the brain revealed no abnormal findings. Extensive-stage small cell lung cancer was subsequently diagnosed.
Four days following hospital admittance, oliguria was detected along with increasing serum levels of creatinine, potassium, phosphorous, and uric acid. The diagnosis of TLS was based on the characteristic electrolyte abnormalities. The patient's renal function continued to deteriorate even after aggressive treatment with fluid resuscitation, phosphate binders, allopurinol, and rasburicase. Daily hemolysis following the first cycle of palliative chemotherapy with cisplatin and etoposide was also performed, but the patient's renal recovery was poor and she eventually became dependent on dialysis.
Small cell lung cancer is a highly proliferative solid tumor. TLS more commonly occurs in rapidly growing cancers with a high tumor load. However, some cases of TLS with solid tumors have been reported. There are only 4 other known cases of spontaneous TLS with small cell lung cancer.
"Spontaneous TLS should be considered in the differential diagnosis for patients who demonstrate the classic electrolyte abnormalities or renal failure in the setting of malignancy even without cytotoxic treatment," advise the authors. "Prophylactic treatment could be a suitable option for patients with multiple risk factors for spontaneous TLS."
Reference
Boonpheng B, Murtaza G, Ginn D. Spontaneous tumor lysis syndrome in a patient with metastatic small cell lung cancer: a case report. Case Rep Oncol. 2017;10(1):392-395.