August 17, 2017
Respiratory Microbiome Changes May Affect Airway Inflammation in Cystic Fibrosis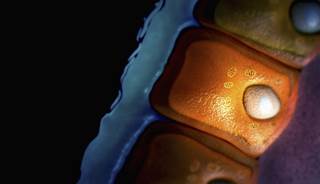 In cystic fibrosis, younger age and antibiotic prophylaxis were associated with lower microbial diversity in the respiratory tract.
In a recent prospective observational study by US and Australian researchers, lower microbial diversity in the respiratory tract was linked with prophylactic antibiotic use and less airway inflammation in cystic fibrosis (CF).1
Previous findings have shown that inflammation and lower airway infection are associated with worse respiratory outcomes, including expiratory airflow limitation, in infants and young children who have CF.2 Although treatment has historically targeted specific organisms such as Pseudomonas aeruginosa, it is now known that a wider range of microbial species can cause respiratory tract infection in patients with CF.3
Although a 2017 retrospective study by the current investigators demonstrated that the infant airway microbiome is dynamic, with diversity apparently decreasing with age, it is unclear how these changes may be connected to airway inflammation and early lung disease in children with CF.4 "Bacterial colonization in infancy has the potential to change the physiology and native immunity of CF airways," they wrote. "The early microbiota of the CF airway represents a potentially modifiable factor that could impact mucosal inflammation and disease progression."5,6
In the present investigation, the researchers analyzed bacterial diversity and inflammatory markers in samples of bronchoalveolar lavage fluid (BAL) and oropharyngeal secretions from 32 infants (mean age, 4.7 months) with CF. A variety of clinical information was also collected, and families were interviewed weekly about symptoms and antibiotic use.
For the 22 patients with both oropharyngeal and BAL sequencing data available, 52% of the distinct taxa identified were present in both samples, while 27% were present only in the oropharyngeal samples, and 21% were present only in the BAL samples. The taxa found in both samples had a greater relative abundance compared with taxa found only in 1 sample (P <.01).
A strong intrasubject correlation was observed between oropharyngeal and lavage samples, per the Shannon diversity index, and there was low intrasubject agreement between bacterial loads in the 2 samples (R=0.02). Younger age and daily antistaphylococcal antibiotic prophylaxis were significantly associated with lower microbial diversity in the lower and upper respiratory tracts. Lower diversity strongly correlated with lower interleukin-8 concentration (R=0.44, P =.04) and absolute neutrophil count (R=0.82, P <.01) in lavage samples.
Taken together, these results show that "microbial diversity of the upper and lower respiratory tract is associated with administration of prophylactic antibiotics, and reduced diversity in the lower airways is associated with less inflammation in the lower airways" in infants with CF, according to the researchers. "By recognizing the earliest origins of CF lung disease, we expect to better understand pathogenesis and identify therapeutic targets or interventions that could alter its trajectory."
Summary
These results demonstrate an association between bacterial diversity of the respiratory tract and the use of prophylactic antibiotics, and between lower diversity and less inflammation in the lower airways.
References