August 29, 2017
Transesophageal Echocardiography Training for Critical Care Fellows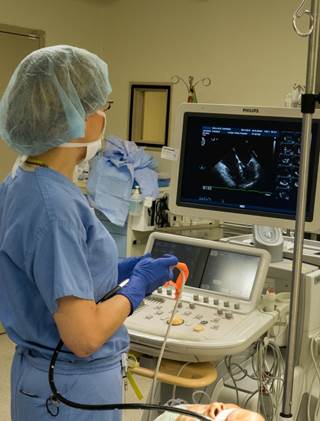 After performing TEE, a change in critical care was necessary in about 40% of patients in the ICU.
Transesophageal echocardiography (TEE) can be used safely and effectively by critical care fellows to assess and manage cardiopulmonary failure in patients who are in the intensive care unit (ICU) when transthoracic echocardiography (TTE) is insufficient, according to a study published in Chest.1
Mangala Narasimhan, DO, professor of medicine at Hofstra School of Medicine and regional director of Critical Care Medicine for Northwell Health in Hempstead, New York, spoke with Pulmonary Advisor about the importance of the research. "Our research shows critical care TEE is safe, useful, and practical. When TTE views are inadequate, TEE is essential for the rapid assessment of cardiopulmonary failure guiding appropriate treatment."
European intensivists use TEE frequently, and training is available during the fellowship period.2 In contrast, North American intensivists rarely perform TEE, and currently there is no standardized TEE training for fellows.1
Dr Narasimhan commented on the future of TEE training for US fellowships. "I believe we will see the integration of standardized critical care TEE training into fellowship programs within the next 10 years."
The researchers reviewed the medical records of 152 critical care patients at a single tertiary care hospital in New York who were mechanically ventilated and received TEE examination by pulmonary/critical care (PCCM) fellows. Fellows were supervised by intensivist faculty who were fully trained in critical care echocardiography, including TEE.
The primary reason for echocardiography was to diagnose and guide treatment of hemodynamic failure and identify additional diagnoses complicating the cause of the patient's condition. Subsequently, the effect of TEE on diagnosis and treatment was evaluated.
Of 152 TEE studies, 70% were ordered because of inadequate TTE views, 18% were performed to detect endocarditis, and 12% were performed during cardiopulmonary resuscitation or immediately after the return of spontaneous circulation.
Performing TEE confirmed the original diagnosis in 72% of cases and detected new diagnoses in 28%. A change in clinical care was necessary for 58 patients (38%), of whom 30 were for an adjustment in ventilatory settings to improve right ventricular function.
Anticoagulation was needed in 8 patients, antibiotics for endocarditis in 5 patients, and dobutamine in 4 patients. In addition, the following procedures were necessary: aortic/mitral valves surgeries (n=3), pericardiocenteses (n=3), insertion of extracorporeal membrane oxygenation cannulas (n=3), administration of fluids (n=1), and fibrinolysis (n=1).
There were no complications from the procedures. However, some TEE image sets had missing images. The most frequently missed images included the aortic arch, main pulmonary artery, and transgastric 120° views.
According to Dr Narasimhan, the PCCM fellows training was not difficult. However, all fellows were required to use a simulator before the TEEs could be performed on patients. Training on the simulator included 5 separate sessions totaling about 4 hours of direct supervision. In addition, conference-based training on imaging and standardized reading material was required.
Study Limitations
A single, unblinded investigator reviewed images and medical charts leading to the possibility of confirmation bias
Results may not be generalizable to other institutions
Image data may have been lost during the study
Inability to determine which images were taken by fellows vs supervisory physicians
The study was underpowered for evaluation of safety data.
References
Garcia YA, Quintero L, Singh K, et al. Feasibility, safety, and utility of advanced critical care transesophageal echocardiography performed by pulmonary/critical care fellows in a medical ICU [published online July 8, 2017]. Chest. doi: 10.1016/j.chest.2017.06.029
Mayo PH, Narasimhan M, Koenig S. Critical care transesophageal echocardiography. Chest. 2015;148(5):1323-1332.