December 29, 2017
A 67-Year-Old Woman With Hypertension, Diabetes Presents With Shortness of Breath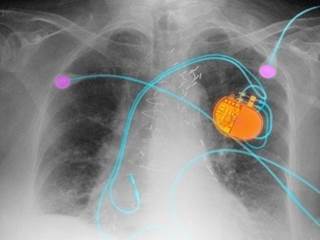 A woman presents to the emergency department with lethargy and marked shortness of breath.
Answer: B. Bedside transthoracic echocardiography
This woman was hospitalized recently for pyelonephritis and now has sepsis and acute respiratory distress syndrome (ARDS). Pulmonary embolism is not suspected at this time and computed tomographic angiography or ventilation perfusion scan would not be the next step. However, given her history of heart failure and her clinical presentation, cardiogenic pulmonary edema caused by left heart failure should be ruled out before ARDS can be diagnosed, according to the Berlin definition.
ARDS is an inflammatory form of hypoxemic respiratory failure resulting in the loss of alveolar aeration.1 Despite some successful advances in treatment strategies, the overall mortality of ARDS still remains higher than 40%.2
In this patient, transthoracic echocardiogram revealed normal left ventricular function but markedly reduced right ventricular dilatation and systolic failure. Acute cor pulmonale resulting in right heart failure can occur as a result of increased vasoconstriction and vascular remodeling of the pulmonary vasculature in individuals with ARDS.2 Acute core pulmonale has been associated with 25% to 50% of cases of ARDS and is independently associated with increased in-hospital mortality as well as increased 28-day mortality.2 The risk for cor pulmonale is increased with higher peak end-expiratory pressures, partial pressure of carbon dioxide, and driving pressures.2
Reducing these factors by using lung protective ventilation and prone positioning has been shown to reduce mortality in patients with ARDS. Prone positioning in particular has been associated with the use of lower peak end-expiratory pressure and targeted plateau pressure, both of which ultimately decrease pulmonary artery pressure and improve right ventricular dilation and function.
Transesophageal echocardiography may be helpful in patients with poor echocardiographic windows because of obesity and mechanical ventilation, however, a transthoracic echocardiogram should be attempted first, given the invasive nature of the former technique.
References
Ranieri VM, Rubenfeld GD, Thompson BT, et al; ARDS Definition Task Force. Acute respiratory distress syndrome: the Berlin definition. JAMA. 2012;307(23):2526-2533.
Biswas A. Right heart failure in acute respiratory distress syndrome: an unappreciated albeit a potential target for intervention in the management of the disease. Indian J Crit Care Med. 2015;19(10):606-609.