August 02, 2017
Ramped vs Sniffing for ICU Endotracheal Intubation: Which is Better?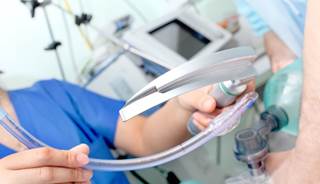 Study contradicts expert opinion recommending ramped positioning in ICU intubations.
According to results from the multicenter Check-UP trial (Checklists and Upright Positioning in Endotracheal Intubation of Critically Ill Patients; ClinicalTrials.gov identifier: NCT02497729) recently published in Chest, patients who underwent endotracheal intubation in the ramped position (head of the bed elevated to 25 degrees) demonstrated no difference in oxygenation compared with patients intubated in a sniffing position (torso supine, neck flexed, head extended). In addition, use of the ramped position worsened the operator's view of the larynx, and increased the difficulty of intubation and the time required for placement of the endotracheal tube.1
The ramped position has been widely recommended by experts for use in the intensive care unit (ICU), a recommendation supported by promising data from small studies that showed beneficial effects of the position in the operating room. In an email interview with Pulmonology Advisor, lead investigator Matthew Semler, MD, MSCI of Vanderbilt University School of Medicine in Nashville, Tennessee, called the results "quite unexpected."
The research team enrolled 260 patients receiving endotracheal intubation from a pulmonary and critical care medicine fellow with the planned use of sedation and neuromuscular blockade in the ICUs of 4 US tertiary care centers. Patients were randomly assigned to be intubated in the ramped (n=130) or the sniffed (n=130) position, and did not differ in their baseline characteristics.
Results showed that during the intubation patients in the sniffing position group demonstrated a median lowest arterial oxygen saturation of 92% (interquartile range [IQR] 79%-98%) compared with 93% (IQR 84%-99%) in patients in the ramped position group (P =.27), a non-significant difference.
Laryngoscopic views were graded according to the Cormack-Lehane scale, a widely used classification system for views obtained by direct laryngoscopy. The incidence of grade 3 (only epiglottis seen, none of glottis seen) or grade 4 (neither glottis nor epiglottis seen) views was 25.4% and 11.5% for the ramped and sniffing position groups, respectively (P =.01). The incidence of difficult intubation was 12.3% in patients in the ramped position group and 4.6% in patients in the sniffing position group (P =.04). Rates of intubation on the first attempt were 76.2% in patients in the ramped position group and 85.4% in patients in the sniffing position group (P =.02).
Dr Semler told Pulmonology Advisor that the results of the trial provide important information for clinicians responsible for airway management outside of the operating room. "Clinicians should use these findings, in the context of their prior experience and patient population, to inform their choice of patient position during endotracheal intubation. Especially for providers with limited overall intubating experience, these findings suggest that the sniffing position may result in easier and faster intubation than the ramped position. Current expert recommendations which strongly advocate use of ramped positioning for intubation outside of the operating room will likely need to be revised."
"This study emphasizes the vital role for randomized clinical trials of airway management in the intensive care unit," Dr Semler stated. "We have repeatedly seen airway management interventions with a strong physiologic rationale and promising preliminary data from the operating room fail to translate to the environment of the intensive care unit. As a critical care community, we need to commit to truly understanding the effect of interventions in the environment of the ICU before we broadly administer them to our patients."
Reference
Semler MW, Janz DR, Russell DW, et al; Check-UP Investigators; Pragmatic Critical Care Research Group. A multicenter, randomized trial of ramped position versus sniffing position during endotracheal intubation of critically ill adults [published online May 6, 2017]. Chest. doi:10.1016/j.chest.2017.03.061